A Hero's Journey to Developing Grit and Reading and Writing Skills
How do you combine a lesson about critical thinking, reading comprehension, and narrative writing with an exercise in developing character and grit? Key practices and tools designed by AltSchool educators and our product development team enable all educators and students to reflect deeply on a learner's development of personal strengths. Here's a look at how our Palo Alto Middle School class utilized this technology to explore what makes a hero a hero.
What Makes a Hero?
Educator Courtney Reynolds began by introducing Joseph Campbell's concept of the Hero's Journey to her students. Campbell's book The Hero with a Thousand Faces explores heroes in mythology and the three phases of the hero's transformational journey: the departure, the initiation, and the return.
Using the AltSchool platform, Courtney created a Unit with three prompts:
What makes a hero a hero?
What are the steps and stages of the Hero's Journey and how do they impact the trajectory of the story?
Where can we find examples of the Hero's Journey in classical and contemporary literature?
With these questions in mind, students wrote essays describing what defines a hero based on their initial perceptions—in literature, history, film, and their own personal experiences. To make the learning relevant, Courtney used one of the most famous characters to be inspired by The Hero with a Thousand Faces as an example: Star Wars' Luke Skywalker. Skywalker's journey illustrated several important themes in Campbell's book, including exploring the unknown, overcoming the fear of change, and how the true journey is the hero's realization about deeper parts of him or herself (and in Skywalker's case, The Force).
Learning About Their Heroes
In the next phase of the project, students analyzed other popular fictional heroes, splitting into book clubs and reading A Wrinkle in Time, Walk Two Moons, The Lion, the Witch and the Wardrobe, and Harry Potter and the Sorcerer's Stone.
The clubs discussed their heroes and documented their thinking about each step of the Hero's Journey in the AltSchool platform for Courtney. When the Harry Potter group isolated the moment Harry reached the "belly of the whale" phase in his journey, they opened the Playlist Card Courtney had created and documented their analysis with text-based evidence. This initiated an ongoing dialogue between Courtney and the students as they continued to pinpoint these pivotal moments during their hero's path to self-discovery in their Cards.
Writing Their Own Hero's Journeys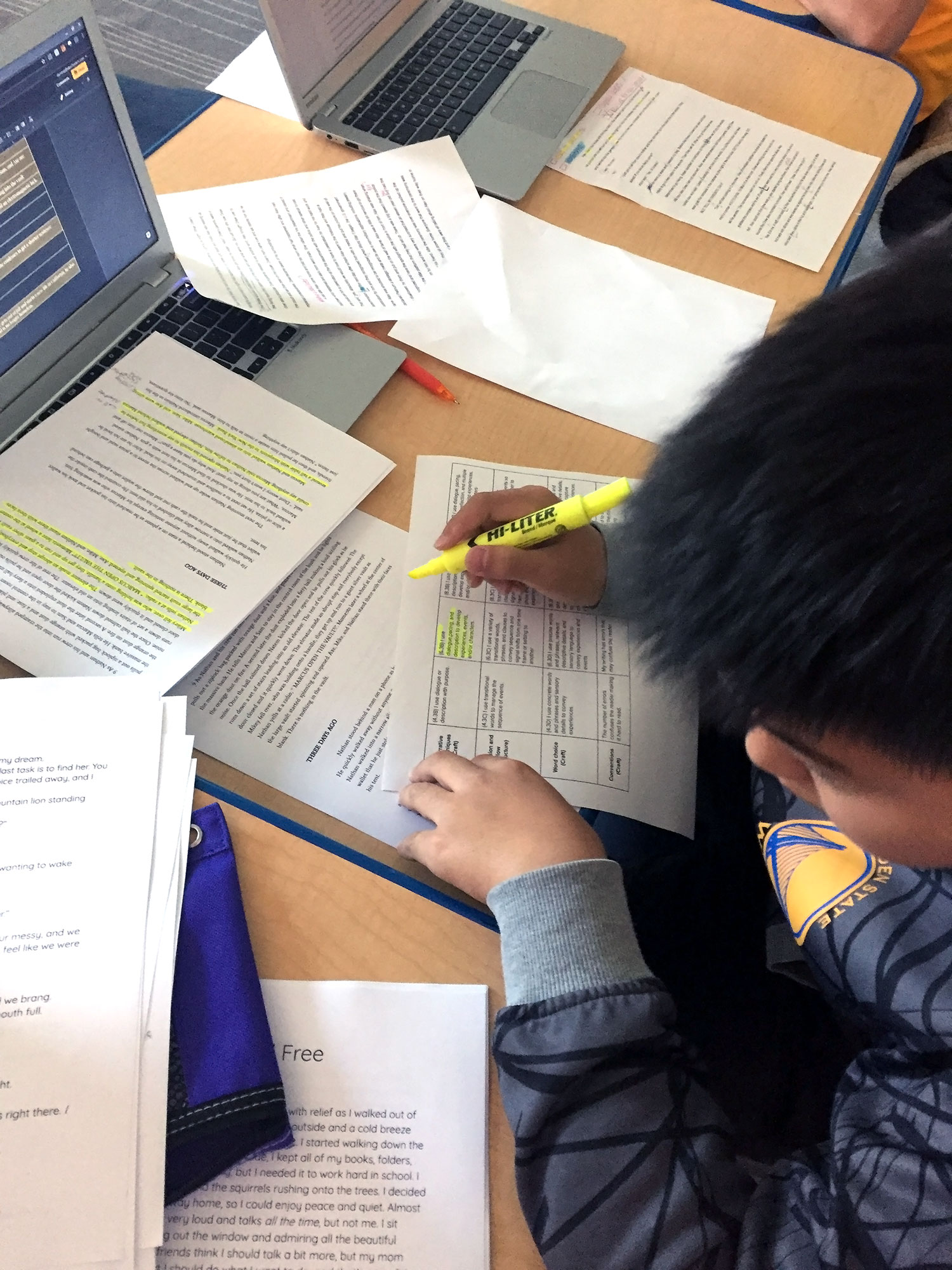 With AltSchool's focus on whole-child development, the Hero's Journey was especially pertinent, as students investigated the importance of character strengths such as curiosity and optimism. In the final phase of the learning arc, students applied their understanding by writing narratives.
"We focused on how the Hero's Journey is not just action and adventure; the hero is forced to confront something about themselves," Courtney explained. "For example, we discussed how Luke in Star Wars needed to develop purpose and grit." Each student chose from nine character strengths, developed by Character Lab, and wrote a story about their character's journey toward developing those traits.
After analyzing their first draft, students used the Goals tool to set their own goals, and shared their work with Courtney using student Capture. Doing so enabled ongoing dialogue between Courtney and each student as they revisited their goals and made revisions, while setting explicit intentions around writing technique helped them develop their narrative writing skills as they progressed.
The results were honest and nuanced. "I expected most students to write fantasy but many chose realistic fiction," Courtney said. "Their characters were imperfectly perfect, each learning a valuable lesson about themselves over the course of their story. The platform allowed me to engage in and maintain meaningful conversations with each of my students. In the end, they were not merely writing a story; they were using their hero's journey as a vehicle for exploring their values, perspective, and sense of self. I was able to meet each of them where they were and stay privy to their unique thought process every step of the way."