Infographic: The Magic (and Numbers) Behind Our Educators
Every day, AltSchool educators create meaningful, inspiring experiences that ignite each child's love and wonder for the world around them. As an AltSchool parent noted, "it's clear they love what they do."
Beyond the inspiring intangibles that characterize our educators, we decided to gather information about our educator team as a whole. After all, we love data at AltSchool! We found that, overall, our educators are experienced, diverse, global, empowered, lifelong learners, who contribute to enriching the AltSchool community of students and families. Deeply passionate about their students and the field of education, our educators are the heart and soul of our educational approach.
If you'd like to meet our educators in person, join us for an AltSchool Open House.

We are flattered to receive thousands of applications for our teaching positions each year. Many of these applicants have both studied and taught at some of the best schools in the world. With a rigorous hiring process, we seek a teacher's alignment with our approach to technology, personalization, whole-child learning, academic rigor, and hands-on experiential learning. We seek teachers who embrace a growth mindset and an iterative approach to education: who continually seek new ways to engage students as well as reflect on their own practice to improve. Through this hiring process, we can safely say that we've hired a truly exceptional group of educators.

We seek educators who are both innovators and masters in their professions—teachers who seek to hone their craft while revolutionizing education. The average years of teaching experience reflects this balance: a majority of AltSchool educators have over six years of teaching experience, and over one-third have over 10 years. For us, this is a perfect mix of new perspectives and collective expertise.
Each of our educators also carry specific specialties, including Reggio Emilia, mindfulness, STEM, and design thinking. Our students and families benefit from nearly 500 years of collective experiences and areas of such expertise. The network-effect of these 500 years is profound, as our teachers continually collaborate and share best practices. Each day, teachers in San Francisco benefit from insights and lessons happening across the country in New York, and vice versa.
From Uzbekistan, Italy, Egypt, and Mexico—our educators have collectively taught across 12 countries. Not to mention nearly a quarter are either bilingual, trilingual, or proficient in secondary languages. Global citizenship and cultural appreciation is core to an AltSchool education. Each of our campuses have international teaching experience, which informs the experiences they provoke into each classroom.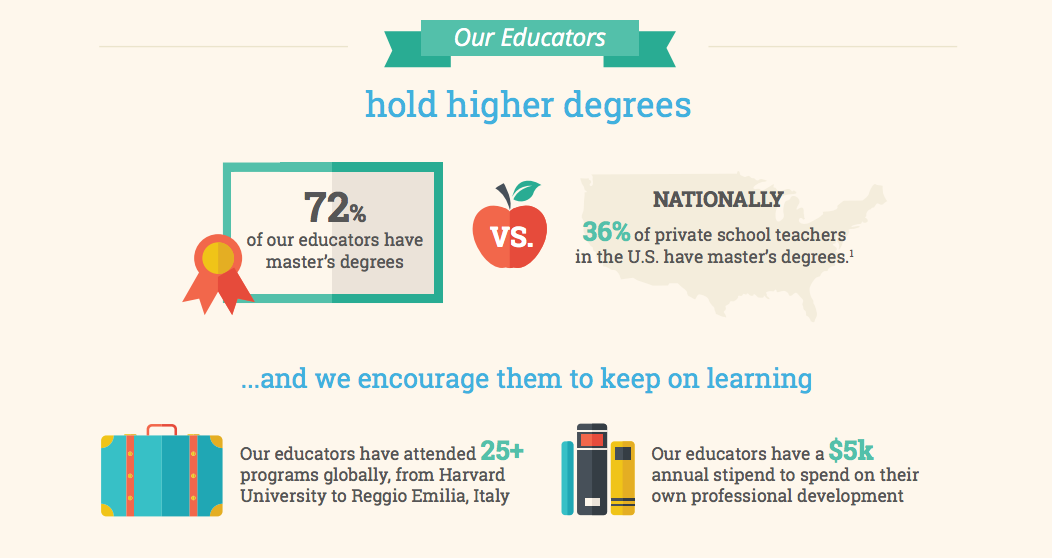 Our educators are scholars of their field and lifelong learners themselves. Seventy-two percent of our educators possess master's degrees, which is over 30 percent higher than the national average at private schools.We also empower our educators to develop professionally. With an annual stipend of $5,000, educators are encouraged to attend educational programming ranging from Harvard certification programs, to the Reggio Emilia conference in Italy, to a global conference on digital literacy. After each professional development experience, educators then come back and share their learnings and takeaways so each benefits from the network's collective knowledge. As one San Francisco-based AltSchool educator noted, "my learning curve at AltSchool is so much steeper than in any other environment! Just through the sheer quality of my peers, we each collaborate and share what's the most cutting edge in the field of education."
AltSchool, diversity includes ethnicity, culture, experience, areas of expertise, pedagogical backgrounds, and more. We have assembled an ethnically diverse team to further foster a conscientious, respectful and enriching environment for our students. Additionally, we've created a balance of educators who both represent the local communities in which they teach and bring an outside perspective by moving across the country to join the AltSchool team.
Last, we aren't satisfied with the status quo, and so we actively solicit feedback to improve. We regularly survey our educators and parents to understand and improve their experiences, ranging from school pickup and drop-off, to the quality of their relationships at AltSchool. For teachers, our goal is to ensure they are spending as much time as possible personalizing education for each of their students. For example, educators share any time they are doing repeated tasks that don't require their unique skills—like coordinating the logistical intricacies of a field trip or moving scores from one spreadsheet to another. We then use this feedback to build better tools to support our students, teachers, and parents so that everyone can focus their time on what matters most: a deeply personalized and quality education.
Above all, we've found that our educators are proud and inspired to work at AltSchool. And across all of AltSchool, we agree! We are fortunate to have such talented educators who are inspiring each of our students every day, and who are, as part of AltSchool, defining the future of education at-large.